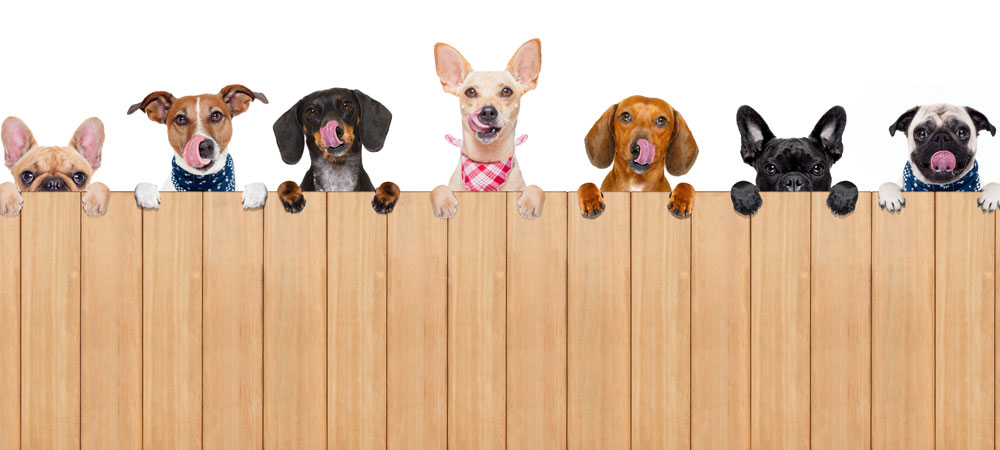 Treats
All online payments are handled securely by PayPal.
NOTE: A PayPal account is NOT required to pay by credit or debit card for one-off purchases.
All products include FREE 48hr delivery to UK mainland (no weekend deliveries at present). Text alert and tracking info available on all deliveries.
Orders placed before 11am can be delivered the next working day in most cases.

NOTE: Product packaging may vary as we trial the best renewable and recycling options.
Specialist Treats
A product mix selection can be easily requested - any variety can be purchased via the 'Special Requirements' box.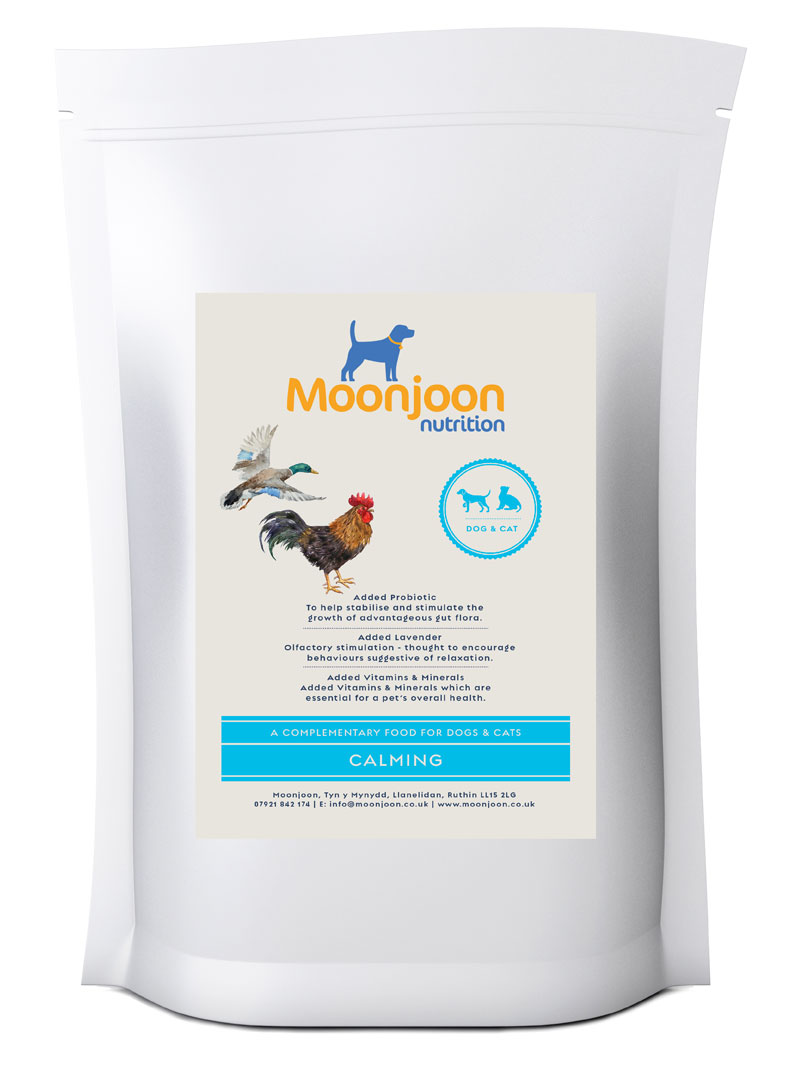 Calming
Formulated to help soothe stressed pets
Added lavender & camomile for their calming properties
Contains traditional calming ingredients
4 Pack - £16.00 FREE delivery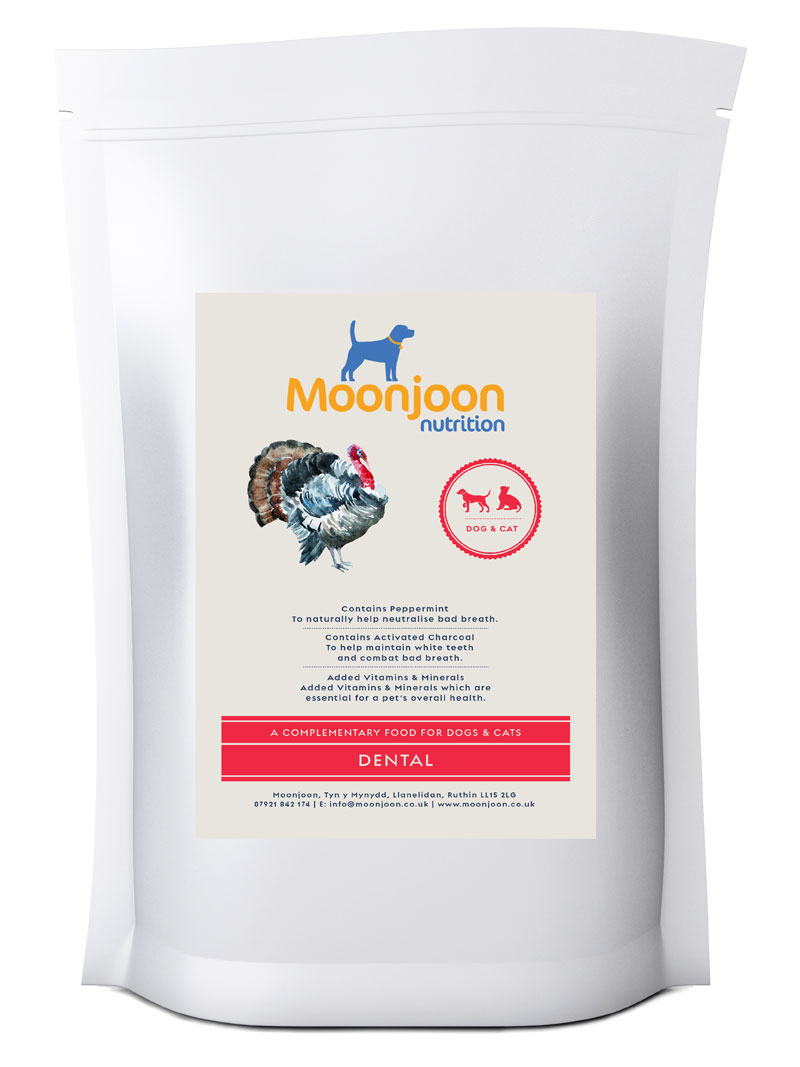 Dental
Contains Activated Charcoal to help maintain white teeth and combat bad breath
Hint of Peppermint to help neutralise bad breath
4 Pack - £16.00 FREE delivery
Digestive
High Fibre Level which helps to promote gut movement
Added nucleotides to help aid gastrointestinal growth & repair
Helps promote a firmer stool consistency
4 Pack - £16.00 FREE delivery
Immune
Added Beta Glucans helps promote an immune response
Added Beta Glucans also aid in immune system defence
Hypoallergenic recipe - No added wheat, wheat gluten, soya, dairy, beef or pork
4 Pack - £16.00 FREE delivery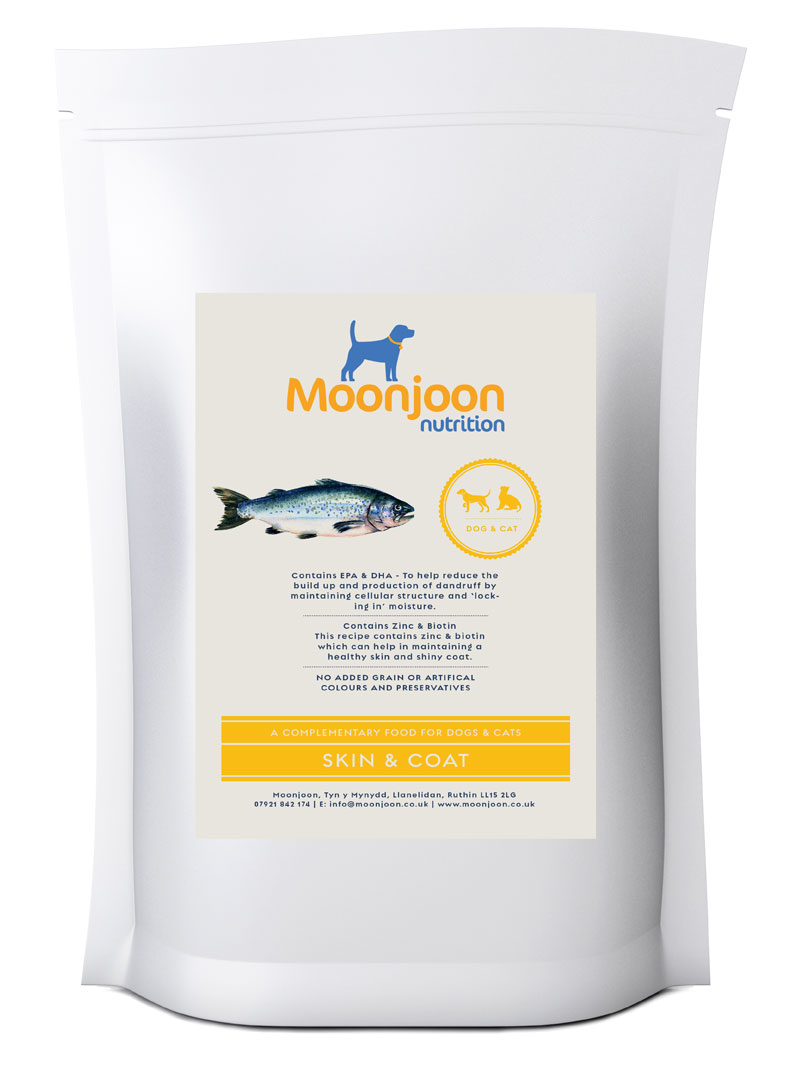 Skin & Coat
Contains Omega 3 & 6 essential fatty acids, Zinc and Biotin to help maintain a healthy skin & coat
Great sources of EPA and DHA to help promote gloss, softness and help prevent scale and dander
4 Pack - £16.00 FREE delivery
Meat Treats
Approximately 3000 Grain free, Natural, Healthy, Freshly Prepared & Steamed meat Treats.
• No Grain or Gluten • No Additives • No Preservatives • No Sugar • No Nasties of Fillers
Grain Free 80% Fish & Sweet Potato Treats
Composition
80% Freshly Prepared and Gently Steam Cooked Fish (43% Salmon, 23% Trout, 12% White Fish, 1% Salmon Stock), Potato, Sweet Potato
Contains 80% Freshly Prepared Fish
Highly digestible and palatable
Made with Pride in Britain
Formulated with Europe's leading nutritionists
No added synthetic flavourings or colourants
Crunchy kibbles for oral care
Hypoallergenic - No added grains or cereals
Analytical Constituents
Kibble Shape: Fish
Length: 6.5 mm (+/- 0.5 mm)
Width: 14.5 mm (+/- 1 mm)
Shelf Life: 18 months
Grain Free 80% Chicken, Duck & Turkey Treats
Composition
80% Freshly Prepared Poultry (Chicken 33%, Duck 29%, Turkey 18%), Potato, Chicken Gravy
Contains 80% Freshly Prepared and Gently Steam Cooked Poultry
Highly digestible and palatable
Made with Pride in Britain
Formulated with Europe's leading nutritionists
No added synthetic flavourings or colourants
Crunchy kibbles for oral care
Hypoallergenic - No added wheat or wheat gluten
Kibble Shape: Bone
Length: 7.5 mm (+/- 0.5 mm)
Width: 14.5 mm (+/- 1 mm)
Shelf Life: 18 months
Feed anytime as a treat or reward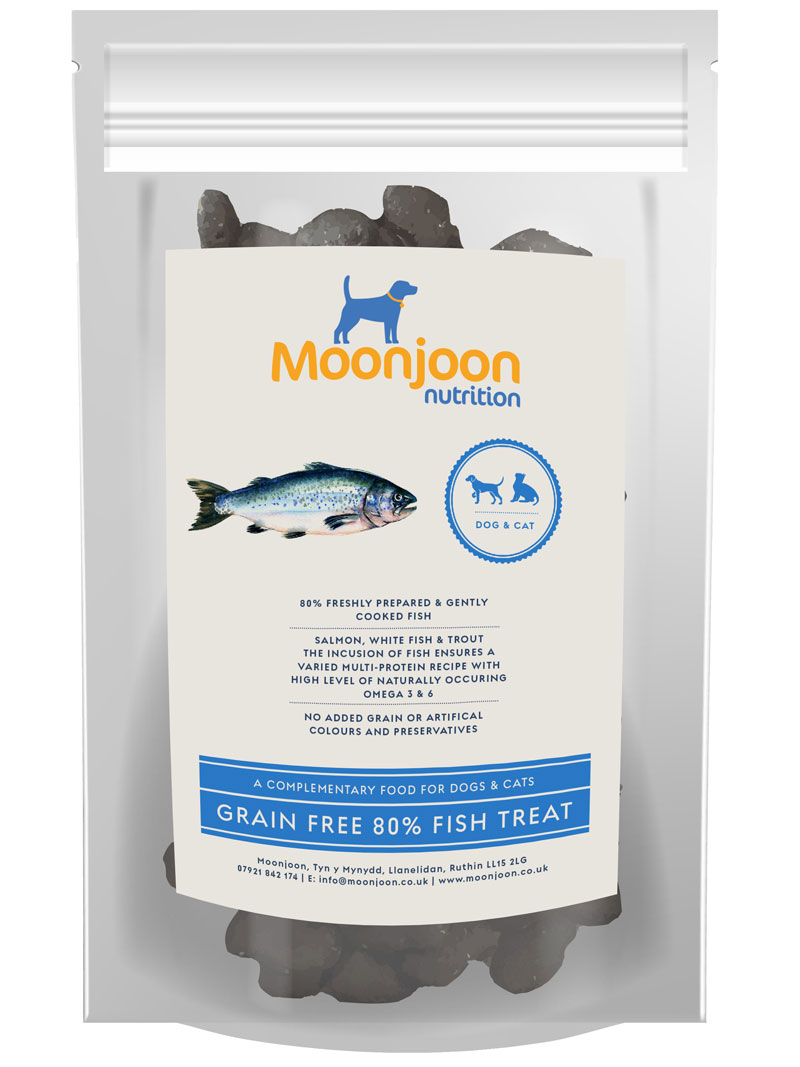 Fish (x3) - £23.00 FREE delivery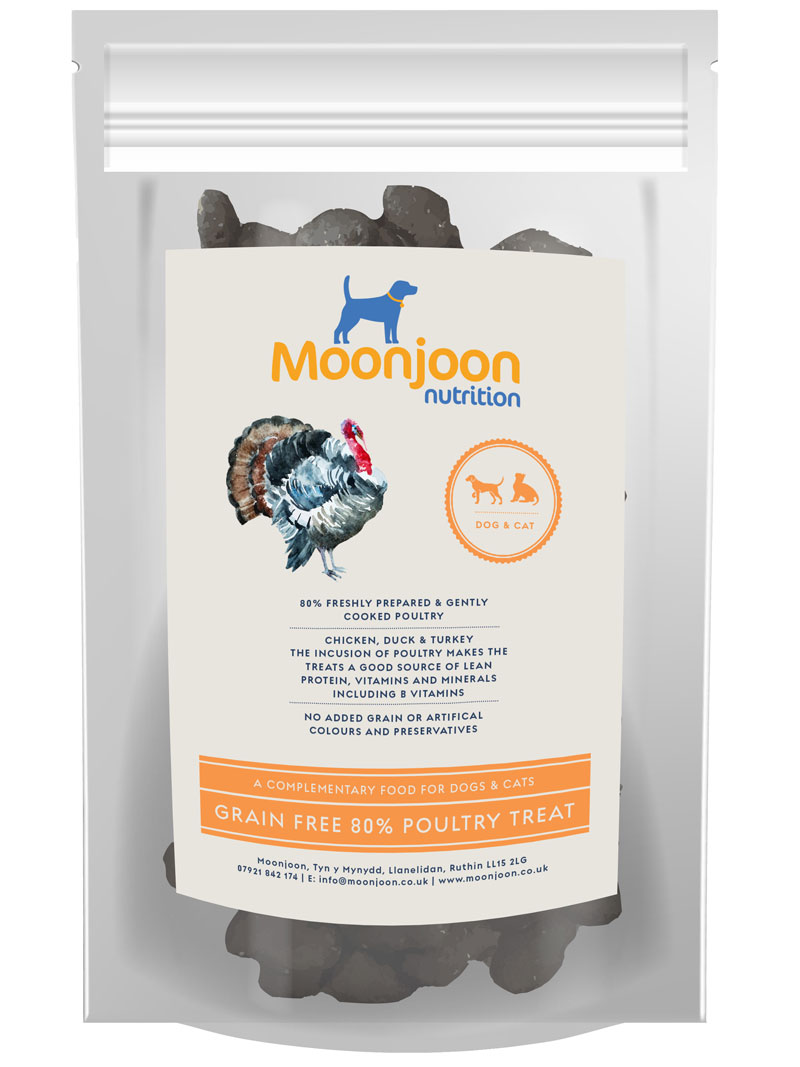 Poultry (x3) - £23.00 FREE delivery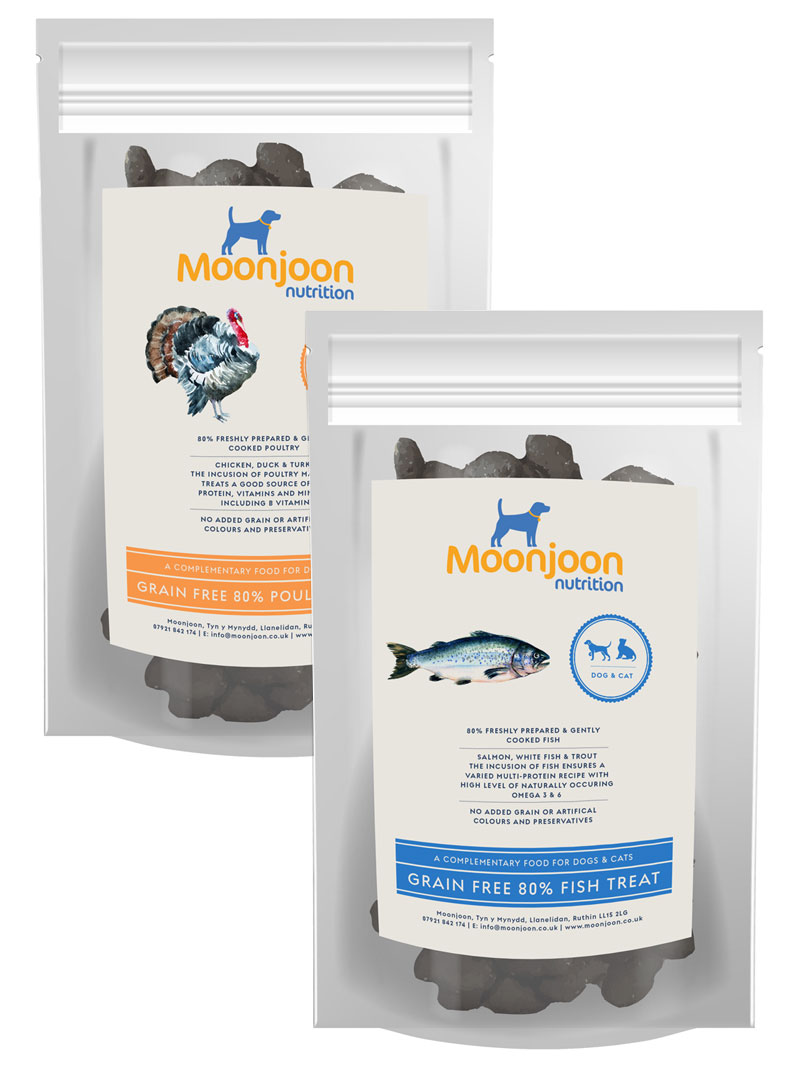 Mixed (x3) - £23.00 FREE delivery